"Being with real people who warm us, who endorse and exalt our creativity, is essential to the flow of creative life.  Otherwise we freeze.  Nurture is a chorus of voices from within and without that notices the state of a woman's being, takes care to encourage it, and if necessary, gives comfort as well.  I'm not certain how many friends one needs, but definitely one or two who think your gift, whatever it maybe, is pan de cielo, the bread of heaven.  Every woman is entitled to an Allelujia Chorus"  Dr Estes from Women Who Run with the Wolves.
ADULT ART CLASSES
Katrina offers art classes for adults on a term basis. No experience is required, just enthusiasm, curiosity and a desire to interact and create with other like minded people. All activities are broken down into very easy, simplified step by step processes. Katrina will guide you technically as well as aesthetically to create beautiful, achievable works of art from the heart.
Activities include painting, ceramics sculpture, mixed media collage, assemblage and printmaking and will vary dependent on the group and the Term.
HAND BUILDING IN CLAY   
In this 7 week clay hand building course you will learn how to construct a chosen form using hand building techniques such as coiling, slab and modelling. We will be using white stoneware paper clay which allows for ease of joinery, textured detail, lush embellishments as well as colour application using underglaze colours and glazes.
All work is directed and guided but allows for individual expression and the production of work that is unique to the participants vision.
Course dates – 21st February – 3rd April, 7 week course.
Class Time : Friday 9.30am  – 12.30pm
Class fee : $395.00 Class fee includes most materials. Firing cost is an extra fee to be paid at the end of the course. Approximately $20
Course Booking and Enrolment
Online booking available. For inquiries contact Katrina katrinawoodland@hotmail.com or on 0413058307.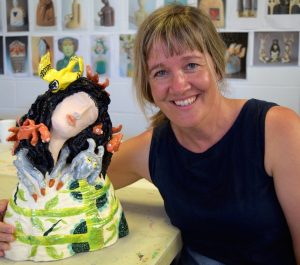 MIXED MEDIA ART MANDALA FOR MANIFESTATION 
WEEKEND ART IMMERSION
Come and join a beautiful group of like minded creatives for a weekend exploration of our souls deepest longings. This is a gorgeous introspective heartfelt journey where we combine a red thread ceremony of connection with meditation, Intention setting processes, essential oils, crystals, oracle cards, music, poetry and of course paint, collage, stencilling and mixed media elements. In these classes not only will we be creating art work of great beauty and symbolism, our canvases will also become portals and tools of focus for making manifest what we want to create in our lives through energy activating and Intention setting processes. If you're feeling the Call, your Tribe is waiting! Come join us. No art experience required, just desire to play, create and connect.
Dates : 30th and 31st May 2020
Class time : 10.00 am – 4.00 pm each day
Class fee : $355.00 Class fee includes most materials and catered lunches. Canvas and collage paper required.











Terms and Conditions
Course booking is now available online.
When booking a course full  payment is required in order to confirm your enrolment and hold your place in  a course. 
 A $50  fee will be charged for cancellations. Refunds are not available for cancellations within 14 days of commencement of courses. You may transfer your enrolment to another person to be used in the same course prior to the start date.  If a class session or course is cancelled by Red Door Art Studio a full refund is provided. 
Absenteeism
If a class or classes are missed unfortunately you will not be entitled to a discount or 'make-up' class. .
Class Cancellation
In the event of a class being cancelled an alternative arrangement will be made for that class or a refund will be made available.