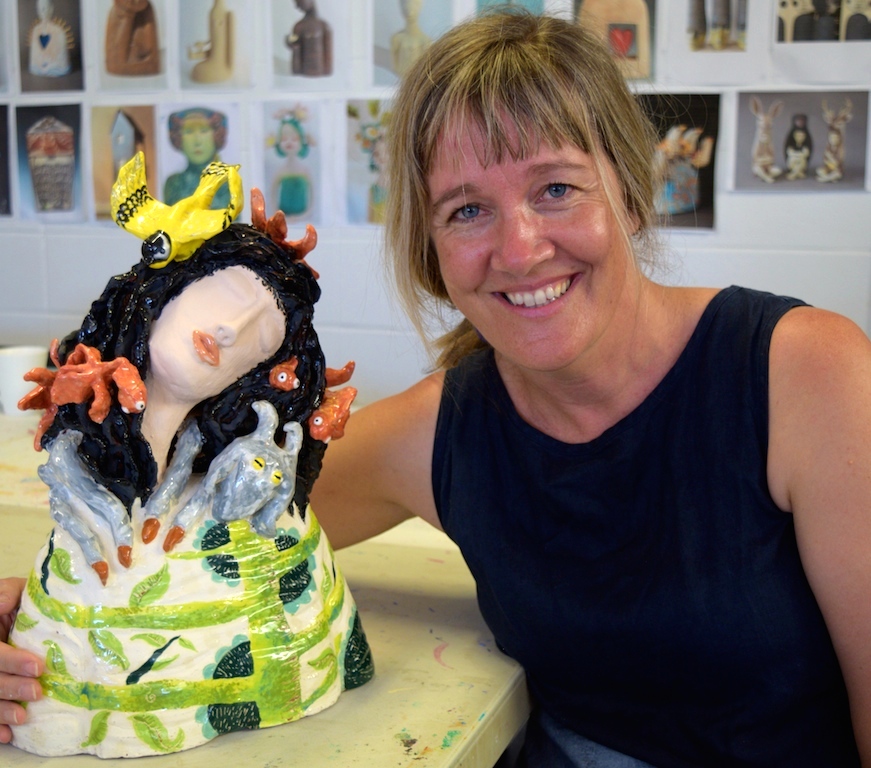 At Red Door Art Studio no prior experience is necessary to create an amazing handbuilt ceramic work of art. These classes are suited to all levels from absolute beginners to more experienced hand builders. Each week Kat takes her students on individualised, guided, easy, step-by-step pathways, ensuring that every student's outcome is achievable and unique. This is Kat's specialty. Working one on one with her students and meeting their individual learning requirements as they arise in order to achieve finished works of ceramic art that are beautiful, meaningful and one of a kind.
Kat has over 30 years experience in handbuilding with her work represented in many private and public collections. Her extensive experience as a working ceramic artist and teacher ensures a fabulously positive outcome for each student.
In her ceramic classes Kat will:
teach you fundamental hand building skills such as coiling, pinching, modeling and the use of press moulds, dependent on the project undertaken.
teach you decorative techniques such as imprinting, sgraffito, inlay and the use of colour through slips and underglazes.
direct and guide you aesthetically and artistically to create your very own personalised ceramic masterpiece.
help you explore and develop further work in your own personal direction and style.
guide you on an inner journey of heartfelt exploration to access and express deeper meaning and intention within the work created, as well as to imbue the work with these intended qualities and attributes.
Each teaching block runs for five weeks with one three hour class per week. Class numbers are kept small so that your experience is hands on and tailored to your specific requirements.
HANDBUILDING IN CLAY – FRIDAY MORNINGS – 7 WEEK COURSE
Restorative Clay Hand Building Classes are being offered in my beautiful hinterland studio at Ninderry over February and March.
Each week I will take you on individualised, guided, easy, step-by-step pathways, ensuring that your outcome is achievable, unique, meaningful and beautiful. No previous experience is required.
This is a process where for 3 hours per week we drop out of the busyness of our minds and our lives and through the tactile nature of clay drop back into our bodies and the present moment, where we can reconnect with the earth and each other and to slow rhythm, tactile sensuality, and our own sacred well spring of creativity.
In this 7 week clay hand building course you will learn how to construct a chosen form using hand building techniques such as coiling, slab and modelling. We will be using white stoneware paper clay which allows for ease of joinery, textured detail, lush embellishments as well as colour application using underglaze colours and glazes.
Class Time : Friday 9.30am  – 12.30pm
Class fee : $395.00 Class fee includes most materials and firing of work.
For inquiries email katrinawoodland@hotmail.com or contact Katrina on 0413058307.