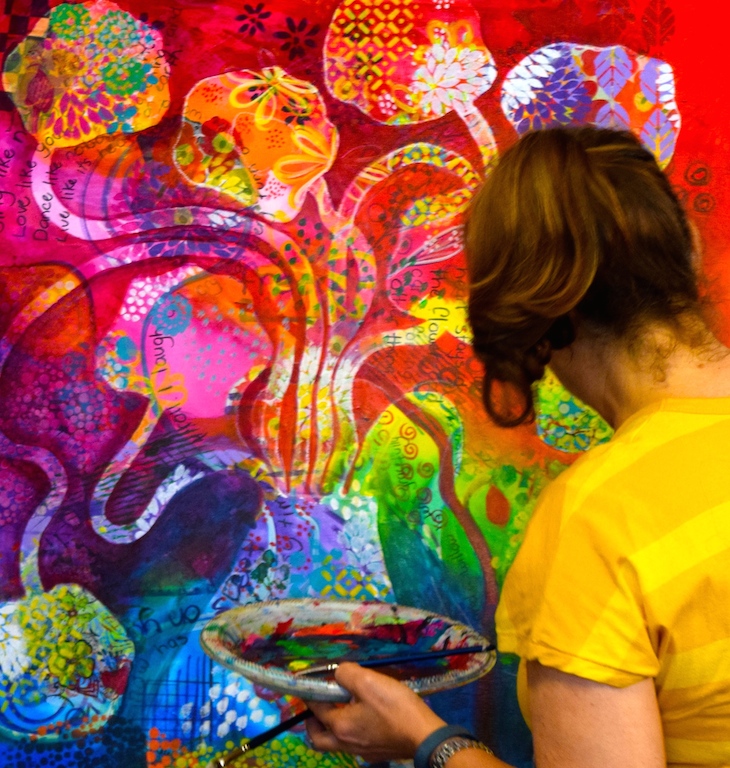 Testimonials from Women's and Children's Art Classes
Katrina Woodland is a truly talented artist who has an amazing ability to nurture the creativity in all of her students, from beginners to the more experienced. Much more than an art class, Katrina provides an opportunity for students to set intentions around their art, and with skill and patience, individualises instruction for everyone. Thank you Katrina for inspiring me every week.
Michele Alexander
I was blessed to attend one of Katrina's sculpture classes, where I made a beautiful sculpture piece under her guidance. I had wanted to attend a class where I felt held and nurtured, and supported to create a piece for my home that would remind me of the growth I had made throughout my time with Katrina. My sculpture now sits on a table at the entry to my home and everyone comments on it as they walk in. I feel so blessed to have created such a beautiful piece in such a loving, supportive class. I really can't wait to attend one of Katrina's classes again, this time with our son. If you have the opportunity to attend a class with Katrina I highly recommend it – you will love it AND the piece you create!
Helen Joy Butler, Sanctuary Creator and Elemental Space Clearer
Katrina is an amazing art teacher and mentor who taught my daughter for 4 years in primary school until the age of 12. Her art classes were the highlight of my daughter's week. Her creativity was allowed to be expressed through an amazing array of art medium from clay figures, mixed styles of paintings and craft. Katrina let's her student's imagination run wild with amazing results, which gave my daughter confidence and self satisfaction when she realised just what she could produce. Her beautiful art work she created at Red door still proudly lines all her walls  and shelves in her bedroom. The knowledge and artistic skill my daughter gained from Katrina's art classes will be with her forever, she is an amazing mentor and is sadly missed in Brisbane by so many students and parents!! The Sunshine Coast is very lucky to have Katrina and her Red door art studio!!
Heather Mather
My family have all attended art courses with Katrina at her Red Door Art studio. The experience is more than the technical learning of art skills. Every piece of art created with Katrina and Joe's guidance is made to represent something personal to the artist, so that the memories of creating the piece and the group of people you made it with are equally as special as the end product. Our home is now filled with lovely artworks created at Red Door Art Studio that are cherished, my children are now confident creators! We very much hope to continue to enjoy this wonderful studio of experienced, patient and organised teachers.
Mary Crosdale
Katrina is an amazing teacher.  My daughter went to her classes for many years and she wouldn't miss a day, even when heavy weather was on the horizon.  With Katrina's guidance, she made exquisite pieces that caught everyone's eye.  Every term, they worked on a different project using mixed media and very creative techniques.  We are truly missing her in Brisbane!
Maria De Vivo
Katrina provides a wonderfully engaging experience for the children in her classes.  My daughter attended for 3 years as well as holiday workshops – it was always her favourite activity of the week and fostered her confidence to be creative.
Lana Johnston
I recently attended a Vision Board Workshop at Red Door Art Studio and was pleasantly surprised. I came with open mind and no expectations. I found Kat's way of teaching was very knowledgeable and fun! I had no idea how creative I was and that I could really enjoy making this vision board of several layers! I was astounded as to how quickly it worked too! The very next day I met a happy little dog that even looked like the picture I had stuck on my board! The dog was connected to my vision of bringing a new energy modality into the world that pets and young children sense very quickly. Of course the pup was the instigator to get it's owner and I talking about this modality. I can't wait to see how much more magic shows up as a result of Kat's talent at bringing in all the right rituals and energies to assist us create our own future visions and dreams.
Kat has a special, easy and fun way of teaching that makes you feel totally at ease, even if you don't feel very arty or creative! And her place has a most magnificent view and peaceful surrounds which makes it even more wonderful to visit!
Naveen Light
Katrina is a wonderful artist and teacher who has great rapport with her students. She continually strives to help her students achieve their maximum creative potential.The quality of work produced at Red Door Art Studio is outstanding!
Joe Ottaway
Katrina is a wonderfully positive and warm teacher who encourages her students to reflect, express and explore their intuition, perceptions, ideas and feelings and cathartically bring them to light onto their canvases. 
I thoroughly enjoyed the painting process and skills she has taught me. 
I came to appreciate that all brush strokes, colours, forms and perceptions/symbols are Ok.  I became aware that the ideas and feelings which materialised and appeared on the canvas as my muse was created were for me to listen to, reflect and become aware of at a deeper level. The process is quite forgiving. There are no mistakes and with Katrina's suggestions / advice the muse can be re-done until it feels satisfactory and finished.
My daughter also completed a muse painting and I believe this helped her become stronger by being more self-aware, to listen and trust her own instincts and feelings. I am grateful for Katrina for being such a great mentor to us both and developing our previously untapped gifts and spirit.
Best Wishes,
Kerry
Color of Women method!
Thank you Katrina for giving me this wonderful treasure for life. It has changed me as person and as a beginner artist. You are an incredible teacher and Mentor to me.
It was your works that inspired me to learn this beautiful technique. You are a great artist.
Though the method itself is beautiful and amazing, the way you taught this made a lot of difference. Your in-depth knowledge of the method and your admiration for its creator Shiloh Sophia had a powerful impact.
Your way of guiding beginner artists and bringing out the creativity in them to create such art pieces is itself a work of Art. Instructing me when required but letting me still paint in my own style, this is something only great teachers can do.
You are one of the best teachers and even better a person that I have met.
Thank you for teaching me this beautiful technique. I have been able to paint using the color of women method after learning from you and it feels incredible.
Rashmi Ranganath
I have had Katrina Woodland as my art teacher for the last 2 years and in this time she has helped me develop my inner artistic abilities in a relaxed, fun and well coordinated and structured art class environment in the company of like minded individuals.
The term that I enrolled in for the Muse Paintings was at first daunting but knew that with Katrina as mentor and guide I could feel confident in not only her capabilities as a teacher but courage to be creative and produce dare I say it – a work of art.This has much to do with Katrina engendering her own innate natural talent and setting the tone and milieu for her classes.
The journey of revealing our inner muse was both engaging and thought provoking.I looked forward to each new step in the painting process and delighted in the evolution of our collective paintings.Katrina is immediately present and constant in her attention and encouragement in her students efforts and is sensitive and non-judgmental in her comments and provides an array of choices for us to consider and develop our style and direction of our art work.
I commend Katrina on her patience in assisting her students in unveiling their Muse canvasses. The finished art works speak for themselves.  We are all amazed by what we eventually produced with Katrina's help. With her examples and demonstrations, the lessons were clear and easy to follow. As students we were all proud of our end achievements seen on our canvasses.This has to do with Katrina's ability to help us achieve our highest  point of creativity and expression so that we are satisfied and have a sense of achievement in our end goal.
Quality teacher, inspired imaginative process. Quality painting materials = Happy and enlightened students richer for the experience of painting our inner muse.
Edwina Maher